Liuto forte in e (Tenor Lute)
Repertory: all compositions for tenor lute from 1500 to about 1630, when using a capo tasto on the second fret: all compositions for 6-10-course alto lute from 1500 to about 1630, arrangements of compositions for d minor lute, compositions for 6-10-string guitars as well as music of the 19th – 21st century, continuo
9- stringed, without extension: B C D E A d g (or f sharp) b e'
String-length 64 or 65 cm
a' = 440 Hz
Single stringing
Slightly curved fingerboard
19 fixed frets
One rose, Broad body, 11 ribs

Wood: Rosewood, Maple, Yew


(recommended: Maple)
10-stringed, with extension for A und B (double head):
A B C D E A d g (or f sharp) b e'
String-length fingerboard strings 64 or 65 cm
string-length bourdun strings (graduated) 69 and 73 cm
a' = 440 Hz
Single stringing
Slightly curved fingerboard
19 fixed frets
One rose, broad body, 11 ribs

Wood: Rosewood, Maple, Yew


(recommended: Maple)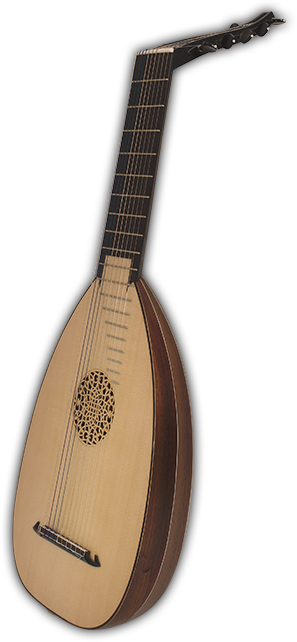 Liuti forti are delivered directly from the manufacturer and are not available from music shops.
If you would like to order a Liuto forte or need advice please send us an email.
If you wish, we can also put you in touch with Liuto-forte players in your area.
This is the instrument which for guitar players will perhaps be the most interesting of the Liuto forte instruments and the easiest to handle. It is a development of the 16th century lute in its tenor size. Apart from getting used to the extra bass strings and the lute's body shape, this instrument demands no fundamental change in the guitarist's approach. By using a simple scordatura, altering the third string down a semitone, and applying a capo tasto on the second or third fret, almost the complete Renaissance lute repertory right through John Dowland is immediately available.
The extra bass strings on the 9 and 10 string Liuto forte in e will facilitate the interpretation of baroque lute music in guitar transcription (Bach, Weiss etc), not to mention modern arrangements for guitar from other instrumentation. Strained fingerings in the left hand can be simplified, and bothersome re-tuning of the guitar's sixth string to D is avoided. An instrument of nine strings in the e tuning is the minimum requirement for performance of the baroque lute repertoire.
Your sense of discovery can be given free rein to determine which parts of the Spanish guitar repertoire can also be realised now on the Liuto forte, once the third string has been simply tuned to g – realised as well as or even better than on the guitar. Given the verve and tolerance guitarists have always shown in adapting lute music for the guitar, taking the process in the opposite direction should not prove an obstacle.
Please note that when recording with Liuti forti, there is no difference between the sound of the instrument in the recording and the sound of the instrument in the original. If you wish, compare the sound of the respective pieces with recordings of the same piece on copies of historical lutes that can be found on the Internet.
Silvius Leopold Weiss "Menuett a minor"
Christian Hostettler, Guitarist,
Switzerland and Germany,
Liuto forte in e, Yew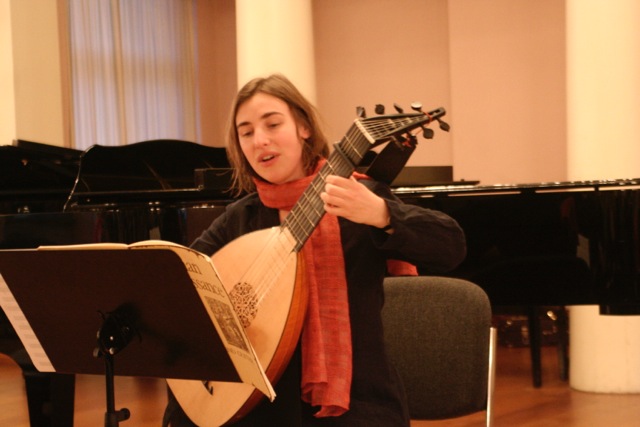 John Dowland "Preludium"
Anett Batuschka, Guitarist, Germany
Liuto forte in e with capo on 2nd fret, Yew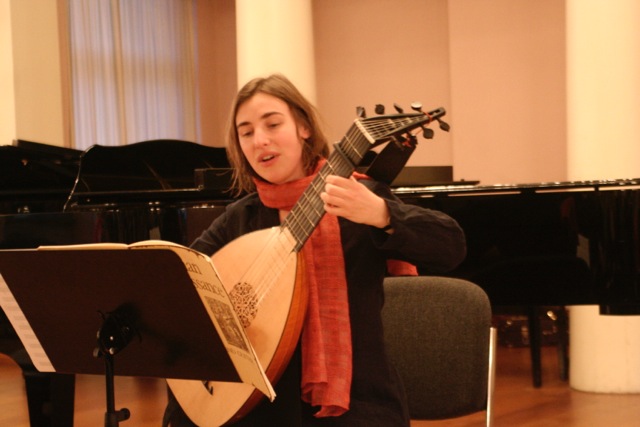 John Dowland "Can she excuse my wrongs"
Anett Batuschka, Guitarist, Germany
Liuto forte in e with capo on 2nd fret, Yew
Antonio Vivaldi "Triosonate in C – Dur" (RV 82)
Duetto Giocondo
Caterina Lichtenberg & Mirko Schrader, Guitarist, Germany
Liuto forte in e, Maple
Antonio Carlos Jobim "Agua De Beber"
Peter Autschbach, Guitarist, Germany
Liuto forte in e with pickup, Rosewood
Bob Marley "I Shot the Sheriff"
Peter Autschbach, Guitarist,
and Andreas Schulz, Germany
Liuto forte in e with pickup, Rosewood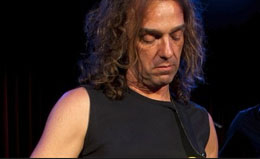 Improvisation on "Ricordame" by Joe Henderson
Peter Autschbach, Guitarist, Germany
Liuto forte in e with pickup, Rosewood
Dominic Miller "Eclipse"
Christophe Rocher, Lautenist, Frankreich
Liuto forte in e, Maple